Friday 4th September 2020
VON TRAPPED FAMILY FEATHERHOOD LIVE STREAM
Here's the high quality version of last week's live stream to celebrate the publication day of Charlie Gilmour's
Featherhood
memoir.
Wednesday 26th August 2020
THE VON TRAPPED FAMILY ARE BACK!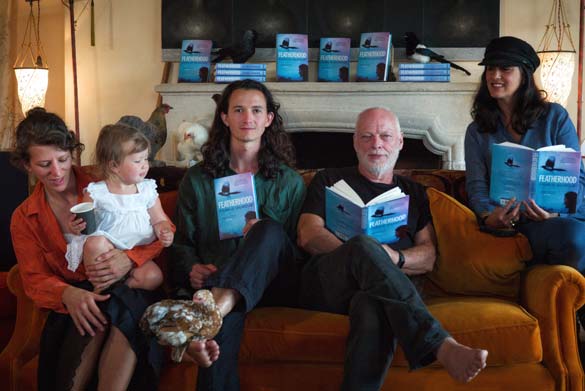 Photo: Romany Gilmour.
Please join us tomorrow, Thursday 27th, at 7.00pm BST for a special live streamed event to celebrate the launch of Charlie Gilmour's book,
Featherhood
.
There will be birds. There will be words. An Evening of Birds and Words (and perhaps some songs too). Admission is free (as ever) at
https://www.facebook.com/pollysamson
, but do consider ordering a copy of the book
here
. It's brilliant.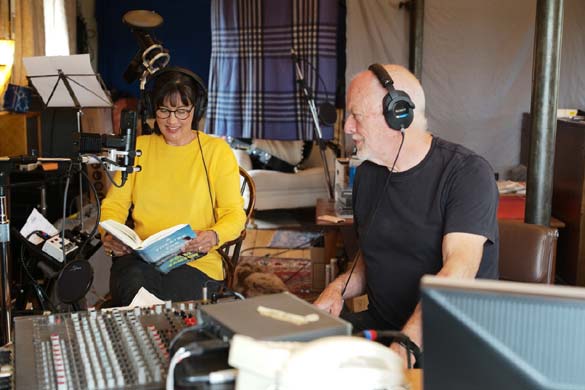 Photo: Romany Gilmour.
Polly and David have collaborated for the release of the audiobook of
A Theatre for Dreamers
, which is published by W.F. Howes and available
here
. The groundbreaking audiobook features David's original music throughout.
The Sunday Times bestseller
A Theatre for Dreamers
by Polly Samson, published in hardback and eBook by Bloomsbury Circus, is available
here
.
To enquire about a
signed
copy of
A Theatre for Dreamers
, please send an e-mail to
info@newhambooks.co.uk
Yes, I Have Ghosts is the first new song from David Gilmour in five years and features the voice and harp playing of his daughter Romany. The inspiration for the track was Polly Samson's new novel A Theatre for Dreamers.

Yes, I Have Ghosts by David Gilmour, featuring Romany Gilmour, is released on SONY MUSIC. Click here to stream or download.
A THEATRE FOR DREAMERS IS A SUMMER READING PICK IN THE GUARDIAN, THE SUNDAY TIMES, THE TIMES, DAILY MAIL, FINANCIAL TIMES, AND EVENING STANDARD.
An intoxicating novel set on Leonard Cohen's Hydra in 1960, a place and a bohemian society that has captivated the world for decades.
"The Greek island of Hydra is the star of this novel about a young woman and a 1960s bohemian community"
THE SUNDAY TIMES, Summer Reading Pick 2020

"Samson summons the vision and the reality in a beguiling, deeply evocative portrait of a vanished era"
THE GUARDIAN, Summer Reading Pick 2020

"It's sleazy, evocative, beautiful and entertaining"
Stuart Turton, THE GUARDIAN, Summer Reading Pick 2020

"Heady armchair escapism ... An impressionistic, intoxicating rush of sensory experience"
The Sunday Times

"Sublime and immersive. If you wish you could disappear to a Greek island right now, I highly recommend"
Jojo Moyes

"A surefire summer hit ... Feels at once like a gift and an escape route ... At once a blissful piece of escapism and a powerful meditation on art and sexuality – just the book to bring light into these dark days"
The Observer

"Could hardly have come at a better time. Samson recreates one heady summer there (the Greek island of Hydra) with impeccably ripening prose, all thyme-scented hills and cascading bougainvillea"
The I

"Beautiful ... Perfect if you want to dream of 1960s Hydra with Leonard Cohen"
Dolly Alderton

"Delicious"
Nigella Lawson

"Intoxicating"
The Spectator

"Oh my god, this book! I don't have words to convey its brilliance. Steeped in nostalgia that's both sad and beautiful. It's fascinating, immersive and so MOVING"
Marian Keyes

"Polly Samson has created such a dazzling evocation of an era and its mindset. Here, the island of Hydra is a geographical place but a psychological one too, populated by beautiful and damaged characters who pull you down into its pages for another café gossip, another moonlit swim, another drink. This book is a bohemian idyll meticulously drawn, and unsparingly exposed. It is like going away to paradise, then coming back rather wiser. You don't read this book – you live it"
Marina Hyde

"It is a grand read and the prose falls translucently like the air ... Superb work and a delightful novel"
Thomas Keneally

"Dreamily nostalgic"
The Observer; Fiction to look out for in 2020

"Hands down the best book I've read all year. Luminous, immersive, gorgeous, profound"
Joanne Harris

"If summer was suddenly like a novel, it would be like this one. Immaculate"
Andrew O'Hagan

"I was utterly entranced. It feels entirely true and effortless and compelling – in the way that all great novels do. Brava!"
Justine Picardie

"This is a sheer delight – I've never been to Hydra but this book transports you and miraculously, you are there in 1960"
Jenny Eclair

"Polly is among the best prose writers of her generation. The writing is just delicious"
Cressida Connolly

"Such a lyrical, elegant and beautifully told story"
Joanna Cannon

"I cannot tell you how much I needed this beautiful book to transport me back to 1960s Greece! Lyrical, sexy, tender and sad in places. Highly recommended"
Erin Kelly

"Samson is a wise and philosophical writer and also an incredibly sensual one; and I loved being inside her world view"
Joanna Rakoff

"I've never wanted to climb inside a novel more. Every page a swooning, summer-sad embrace. Perfect holiday read"
Rhik Samadder

"A wonderful novel that evokes Hydra beautifully and gives new insight into the lives of Charmian Clift and George Johnston...and Leonard Cohen and many others"
Paul Daley

"I LOVED IT LOVED IT LOVED IT never wanted it to end"
Sophie Heawood

"Sexuality, art, escapism and Leonard Cohen. What MORE d'ya want in a novel!"
Kate Robbins

"Samson is an intensely sensual writer, conjuring up blue skies, the tang of wild herbs, the vivid splash of bougainvillea – but also the donkey shit, one-eyed cats and stinking privies. Here and there are hints of a darker reality ... A Theatre for Dreamers is almost as good as a Greek holiday, and may be the closest we get this year"
Financial Times

"Samson is magnificently in control of her subject ... Clever and beguiling"
The Guardian

"This well-crafted novel beautifully captures the texture of a halcyon age in which anything seems possible"
Mail on Sunday

"Heady armchair escapism ... An impressionistic, intoxicating rush of sensory experience"
The Sunday Times

"Perfectly captures the freewheeling intellectual spirit and lifestyle of the resident artistic community"
The Afterword, BBC Radio 4

"Like sunshine in a bottle ... Gloriously escapist"
Best

"This radiant novel will transport you straight to Greece"
Cosmopolitan

"Samson recreates it all in sensorial detail, overlaying descriptions of sea and heat, fruit and sun-shine in ways that seem to replicate the effect of light through a stained glass window"
Daily Mail

"The writing is beautiful and so vivid that you can see the sun-washed white houses and blue seas"
Good Housekeeping book of the month

"A coming-of-age story that feels like a holiday"
Grazia

"Samson recreates one heady summer there with impeccably ripening prose ... This is a slow, deliberately languorous novel that mixes real-life figures with fictional counterparts. It is sunbaked, stewed in alcohol, and wonderfully gossipy"
The I

"Already a bestseller and it's easy to see why. Not only does it dazzle quarantined readers with woozy images of the island as an escapist utopia – all sunblasted hillsides, lemon trees and town squares stuffed with writers and musicians – it's also a fascinating portrait of figures who have largely dropped out of history"
Metro

"As dreamily nostalgic as Cohen's song Famous Blue Raincoat"
Alex Preston, The Observer, New Year Highlights

"Supremely accomplished ... The atmosphere of sexual jealousy, violence and carelessness is wonderfully rendered. Samson has long displayed a gift for sensuous description and here it is used to dazzling effect ... it's a testament to Samson's transportive prose that you may find it very hard to leave it behind"
The Spectator

"A seductive story, suffused with nostalgia"
Sunday Mirror

"A coming of age story set among a group of artists and poets, including Leonard Cohen, on the Greek island of Hydra in 1960. She is so good at mentally indelible imagery"
Jojo Moyes, The Guardian

"Samson's writing is impeccable, a joy in itself: every word is just right. Her use of language is inventive, blissful, often paradoxical and, occasionally, splendidly zeugmatic. This is a jewel of a book"
The Tablet

"The novel has a lightly worn heft to it, as it probes freedom and creativity ... By the end of this enjoyable novel, which makes vivid an interesting moment and place, you discover people have paid a price – a heavy one – for that freedom in the sun"
The Times

"Spellbinding ... An immersive read, steeped in nostalgia. Samson's poetic prose is so evocative that, by the end, you find yourself googling those entrancing images of Hydra, 1960, just to wallow further in the poignancy of it all"
Vanity Fair

"Redolent of the heat and glamour of early 1960s Greece, Samson's electrifying novel centres on a small group of bohemian artists with a brave new world at their feet. Mingling real-life icons with fictional creations, A Theatre for Dreamers mines a glorious, sun-kissed nostalgia for creatively thrilling times"
Waterstones

"Glorious ... Feels like the book the author was born to create"
Irish Times

"I spent a blissful week on Hydra a couple of summers ago. A Theatre for Dreamers made me want to return to its golden shores, as soon as pandemic permits, armed with everything Samson has ever written"
Irish Independent

"A Theatre for Dreamers offers an appealing escape, a virtual vacation on the Greek island of Hydra"
Australian Book Review

"Both a meditation on art and desire and a captivating coming-of-age story"
Sunday Life, Herald Sun

"A very sexy novel that mostly takes place on the sun-drenched Greek island of Hydra"
Good Weekend, Sydney Morning Herald

"Our narrator is fictional and her name is Erica...She [Polly Samson] did a wonderful job of setting the scene and letting us sit with Erica as she spoke with Charmian and George and Leonard...She does it brilliantly"
ABC Radio National, The Bookshelf

"Samson's descriptions of the island are often idyllic, and the life of freedom, good friends, music, poetry, art, fresh local foods, cheap drinks and nude bathing in clear blue waters, is the stuff of dreams. A Theatre for Dreamers is a book for dreamers, too"
Newtown Review of Books

"It's a beautifully written novel, impossible to put down and difficult to leave behind after the final page"
Better Reading

"This is exactly the sort of book we'd have picked up in duty-free, bound for a week of sunlounging (those were the days) but it's just as enticing, perhaps even more so, reading it from the familiarity of our own home"
The Independent

"The pages gleam with sun, sex and the 1960s"
Red Magazine

"This is vicarious holidaying at its most woozily delicious"
Hadley Freeman

"A luscious seduction of a book"
Sofka Zinovieff

"A beautifully written, evocative, inspiring novel. I devoured it"
Kathy Lette

"A glorious novel"
Kate Mosse