Friday 3rd July 2020
'YES, I HAVE GHOSTS' – DAVID GILMOUR'S FIRST NEW MUSIC IN FIVE YEARS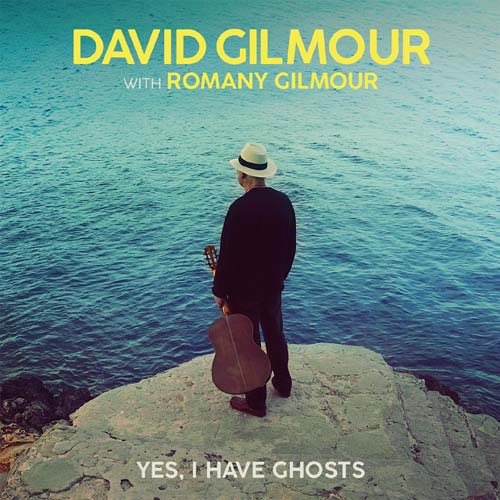 Yes, I Have Ghosts
is the first new song from David Gilmour in five years and features the voice and harp playing of his daughter Romany. The inspiration for the track was Polly Samson's new novel
A Theatre for Dreamers
.
Of
Yes, I Have Ghosts
, David says "I was working on this song just as we went in to lockdown and had to cancel a session with backing singers but, as it turned out, the solution was right here and I couldn't be happier with the way Romany's voice blends with mine and her beautiful harp playing has been another revelation".
The song has previously only been available as part the ground-breaking audiobook for the novel. Polly Samson, who wrote the lyrics, says "Collaborating with David – as I have done many times over the last 30 years, writing songs for both Pink Floyd and his solo albums – we were able to bring together the worlds of literature and music to enhance the listening experience and connect with audiences in a way which I don't think has been done before".
The Sunday Times bestseller
A Theatre for Dreamers
by Polly Samson is out now and published by Bloomsbury.
A Theatre for Dreamers
audiobook is available
here
.
Yes, I Have Ghosts
by David Gilmour, featuring Romany Gilmour, is released today on SONY MUSIC. Click
here
to stream/download.
Thursday 2nd July 2020
VON TRAPPED TONIGHT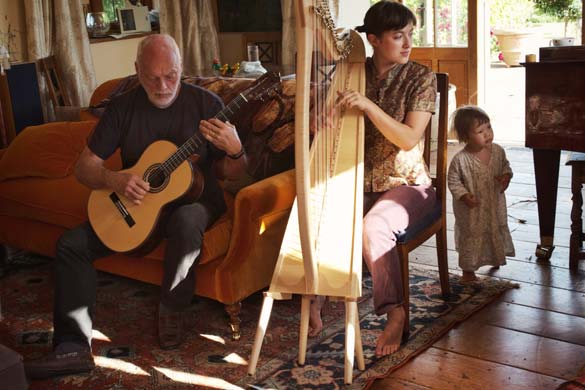 We've decided to celebrate tomorrow's worldwide release of David's new song
Yes, I Have Ghosts
with another Von Trapped Family broadcast. Please join us from 7.30pm BST (2.30pm ET) at
https://www.facebook.com/davidgilmour
.
Thursday 25th June 2020
AUDIO EDITION OF THE BESTSELLING NOVEL IS LAUNCHED TODAY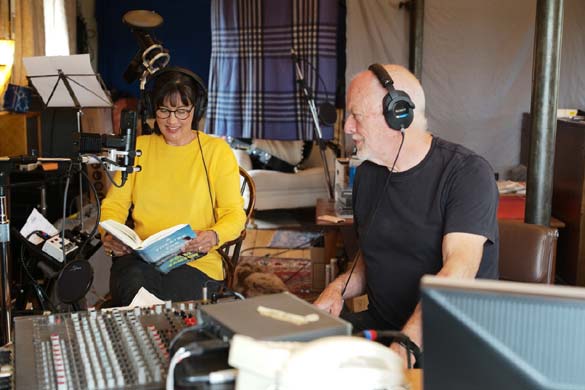 Photo: Romany Gilmour.
Polly and David have collaborated for the release of the audiobook of
A Theatre for Dreamers
, which is published today by W.F. Howes and is available
here
. The ground-breaking audiobook features David's original music throughout.
Wednesday 3rd June 2020
It is with great regret that the dates for
A Theatre for Dreamers – An Evening of Words and Music with Polly Samson and David Gilmour
have been rescheduled to June 2021.
All tickets will be valid for the new shows, which have been previewed via The Von Trapped Family broadcasts on Polly's Facebook page. Any NEW purchases will receive a signed copy of the hardback version of the book by Polly Samson and a signed photo by Polly and David Gilmour
on the night of the event
. Please see
Terms and Conditions
.
A Theatre for Dreamers – An Evening of Words and Music with Polly Samson and David Gilmour:
Friday 25th June 2021 – Manchester, Royal Northern College of Music
Saturday 26th June 2021 – Birmingham, Town Hall
Monday 28th June 2021 – London, Central Hall Westminster
For details on refunds, please click
here
.
Sunday 31st May 2020
HAY FESTIVAL REPLAY
A one-of-a-kind performance and Q&A took place at
Hay Festival Digital
last night with Polly Samson and David Gilmour. Thanks to everyone who tuned in; you can catch up
here
(requires a subscription).
Thursday 14th May 2020
LOCKDOWN CULTURE WITH MARY BEARD
Mary Beard's
Lockdown Culture
series continues tonight on BBC Two at 7.00pm and features the Von Trapped family.
Monday 11th May 2020
VON TRAPPED FAMILY LIVE STREAM #6
Here's the high quality version of last Thursday's live stream, in which David discussed his childhood friendship with Syd Barrett and played two of Syd's songs. Thanks to David for putting the hi-res film together.
Thursday 7th May 2020
Rehearsals underway for tonight's Von Trapped Family livestream (7.00pm BST / 2.00pm ET) at
https://www.facebook.com/pollysamson
. Send questions!
Thursday 7th May 2020
DAMIAN BARR'S LITERARY SALON – APRIL 2020
Polly Samson and family regaled us with exclusive readings and a Q and A at our very first live online Salon, relocated from the Savoy, attracting 50,000 viewers from around the world!
Monday 4th May 2020
Polly spoke to K9 Magazine about the dogs who've captured her heart over the years and how they broke all the rules with their newest rescue dog, Barbounia.
An intoxicating novel set on Leonard Cohen's Hydra in 1960, a place and a bohemian society that has captivated the world for decades.
"Polly Samson has created such a dazzling evocation of an era and its mindset. Here, the island of Hydra is a geographical place but a psychological one too, populated by beautiful and damaged characters who pull you down into its pages for another café gossip, another moonlit swim, another drink. This book is a bohemian idyll meticulously drawn, and unsparingly exposed. It is like going away to paradise, then coming back rather wiser. You don't read this book – you live it"
Marina Hyde

"She is so good at mentally indelible imagery"
Jojo Moyes

"It is a grand read and the prose falls translucently like the air ... Superb work and a delightful novel"
Thomas Keneally

"Dreamily nostalgic"
The Observer; Fiction to look out for in 2020

"About real people living in Hydra in 1960. Steeped in nostalgia that's both sad and beautiful. It's fascinating, immersive and so MOVING"
Marian Keyes

"Hands down the best book I've read all year. Luminous, immersive, gorgeous, profound"
Joanne Harris

"If summer was suddenly like a novel, it would be like this one. Immaculate"
Andrew O'Hagan

"I was utterly entranced. It feels entirely true and effortless and compelling – in the way that all great novels do"
Justine Picardie

"This is a sheer delight – I've never been to Hydra but this book transports you and miraculously, you are there in 1960"
Jenny Eclair

"A luscious seduction of a book"
Sofka Zinovieff

"A beautifully written, evocative, inspiring novel. I devoured it"
Kathy Lette

"A glorious novel"
Kate Mosse