Wednesday 12th February 2020
A Theatre for Dreamers – An Evening of Words and Music with Polly Samson and David Gilmour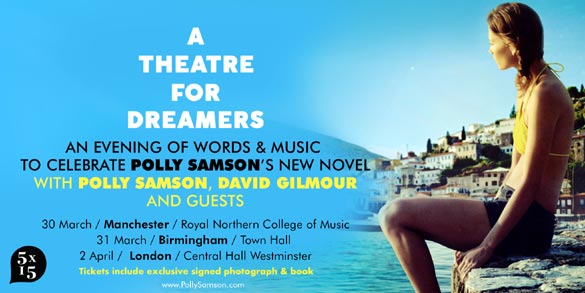 Monday 30th March – Manchester, Royal Northern College of Music
Tuesday 31st March – Birmingham, Town Hall
Thursday 2nd April – London, Central Hall Westminster
Join Polly Samson and friends to launch her new novel
A Theatre for Dreamers
at an evening of words and music in Manchester, Birmingham and London.
Each of these special events will feature Polly Samson in conversation with journalist Rosie Boycott, readings, film and live music, including a new song
Yes, I Have Ghosts
written by David Gilmour and Polly Samson.
The audience will be transported to the Greek island of Hydra in 1960, and a world dancing on the edge of revolution, where a circle of poets, painters, writers and musicians live tangled lives. It's a story of utopian dreams and innocence lost, of the troubled King and Queen of Bohemia, Charmian Clift and George Johnson, of a young poet named Leonard Cohen, and his Marianne; and of Erica Hart, an 18-year-old in search of answers.
Ticket prices include a signed first edition of
A Theatre for Dreamers
and an exclusive portrait of Polly Samson and David Gilmour taken on Hydra and signed by them both.
'In
A Theatre for Dreamers
, Polly Samson goes to the Greek island of Hydra to imagine the first steps in the love affair between Leonard Cohen and his Marianne. As dreamily nostalgic as Cohen's song Famous Blue Raincoat'
OBSERVER
, Fiction to look out for in 2020
'It is a grand read and the prose falls translucently like the air ... Superb work and a delightful novel'
THOMAS KENEALLY
'Polly Samson has created such a dazzling evocation of an era and its mindset. Here, the island of Hydra is a geographical place but a psychological one too, populated by beautiful and damaged characters who pull you down into its pages for another café gossip, another moonlit swim, another drink. This book is a bohemian idyll meticulously drawn, and unsparingly exposed. It is like going away to paradise, then coming back rather wiser. You don't read this book – you live it'
MARINA HYDE
A THEATRE FOR DREAMERS BY POLLY SAMSON IS PUBLISHED ON 2nd APRIL BY BLOOMSBURY CIRCUS.
For more information about
A Theatre for Dreamers
, please contact Ros Ellis in the Bloomsbury press office at
ros.ellis@bloomsbury.com
Monday 6th January 2020
Polly's new novel,
A Theatre for Dreamers
, is in The Observer's top 2020 reading picks – "As dreamily nostalgic as Leonard Cohen's Famous Blue Raincoat". It will be released in April 2020.
Click
here
to pre-order a special signed copy of
A Theatre for Dreamers
(limited quantities available).
An intoxicating novel set on Leonard Cohen's Hydra in 1960, a place and a bohemian society that has captivated the world for decades.
"Polly Samson has created such a dazzling evocation of an era and its mindset. Here, the island of Hydra is a geographical place but a psychological one too, populated by beautiful and damaged characters who pull you down into its pages for another café gossip, another moonlit swim, another drink. This book is a bohemian idyll meticulously drawn, and unsparingly exposed. It is like going away to paradise, then coming back rather wiser. You don't read this book – you live it."
Marina Hyde

"She is so good at mentally indelible imagery."
Jojo Moyes

"It is a grand read and the prose falls translucently like the air ... Superb work and a delightful novel."
Thomas Keneally

"Dreamily nostalgic."
Observer, Fiction to look out for in 2020

"About real people living in Hydra in 1960. Steeped in nostalgia that's both sad and beautiful. It's fascinating, immersive and so MOVING."
Marian Keyes

"Hands down the best book I've read all year. Luminous, immersive, gorgeous, profound."
Joanne Harris

"If summer was suddenly like a novel, it would be like this one. Immaculate."
Andrew O'Hagan

"I was utterly entranced. It feels entirely true and effortless and compelling – in the way that all great novels do."
Justine Picardie

"This is a sheer delight – I've never been to Hydra but this book transports you and miraculously, you are there in 1960."
Jenny Eclair

"A luscious seduction of a book."
Sofka Zinovieff

"A beautifully written, evocative, inspiring novel. I devoured it."
Kathy Lette

"A glorious novel."
Kate Mosse